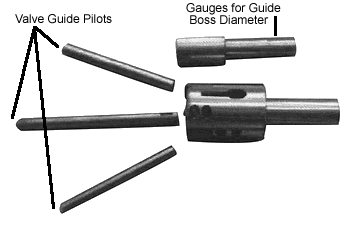 Spring Pocket Cutter
Spring diameters from 1 1/4"– 1 1/2" and everything in between. Guide diameters from .472 – .631. You can also cut and chamfer the guide boss height from 7/16" – 1 1/8" tall. You can now do all three dimensions at once - any combinations - at once.
All cutting edges are solid carbide. Blades have radius on OD of cutter for spring. Chamfer/radius for guide-to-head strength! All complete and ready to plunge cut, get ready to get all four cut dimensions at once.
Spring Pocket Cutter complete: $419.50
​
Includes all guide rods, carbide cutter blades and plug gauges.